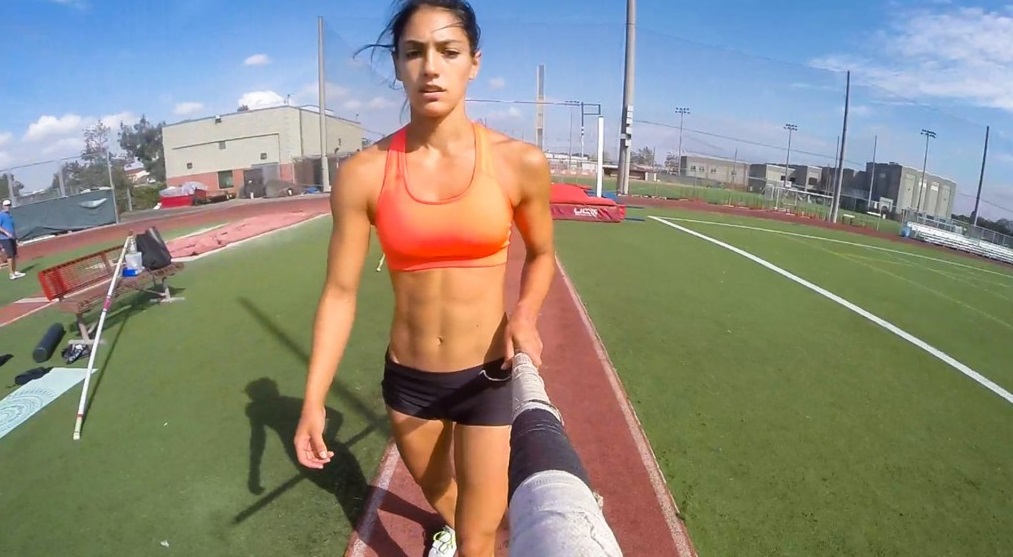 Alisson Stokke is a US track and field athlete, who has also garnered popularity as a sports and fitness model. Over the years, she has become the poster girl for pole vaulting in the United States.
The attractive brunette was born to Allan and Cindy Stokke in Newport Beach, California on March 22, 1989. She took up pole vaulting at Newport Harbor High School and broke several records at the high school level. She won the national title for age 15/16 in 2004 with a record jump of 3.81m. Her streak of records didn't end there as she also claimed wins at high school freshman and sophomore levels with record jumps. Furthermore, Stokke claimed a couple of wins at CIF California State Meet. In the senior year of her high school, Alisson Stokke ranked second at high school levels and finished eighth in national junior championships.
Read more: Allison Stokke bikini
In 2007, Stokke's life was turned upside down as photos of her while competing at an event in New York went viral on the internet. Her attractive looks bought a lot of unsought attention towards her in the following years, and she became a sex symbol all over the world.
Major publications such as The Washington Post, Los Angeles Times, The New York Times, BBC and more covered her story. German weekly Der Spiegel even claimed that the US pole-vaulter had become "sex symbol against her will". The entire episode deeply affected Stokke, and she claimed that her public image has left her feeling insecure in her personal life.
The 5ft 7in athlete merited an athletic scholarship to study sociology at the University of California, Berkeley. She continued to break records at college and regional level. During the second year of her college, Stokke earned eighth place at the Pac-10 Championships and seventh at the MPSF Indoor Championships. In the same year, she made her debut at NCAA Women's Division I Outdoor Track and Field Championships and finished 19th in her discipline.
Stokke jumped her lifetime best of 4.36m during her preparations for London Olympics in 2012. However, her pursuit for a place in the US Olympic team ended on a hugely disappointing note as she failed to jump the opening height of 4.25 m.
Her performances have continued to decline since then, but she still competes regularly in national level meetings. She jumped 4.27m to claim the bronze at 2017 Austin Longhorn Invitational. This was her best jump since 2012.
In the latter part of her career, she became a successful sports model and a fitness influencer. She modelled for brands such as Nike Inc. and Athleta in 2015. She has also developed a series of videos focusing on pole-vaulting with camera brand GoPro. These videos have collected more than ten million views on YouTube.
Stokke started dating US golfer Rickie Fowler since the end of 2016. Both were seen hanging out in public towards the end of the year, and they also put their pictures on social media. Fowler, who has four wins on the PGA tour, announced his engagement to Stokke on his Instagram account on June 09, 2018.
Is Allison Stokke married?
Alisson Stokke Fowler is married to professional golfer Rickie Fowler. So anyone that hope Alisson to be single can now stop and carry on chasing another dream.
Allison Stokke hot photos
Other sexy track and field star Lolo Jones
Allison Stokke video