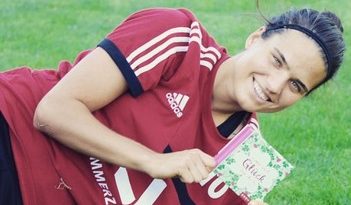 Dzsenifer Marozsan is born on 18th April 1992, is Hungarian female football player who plays for Olympique Lyon, and even though she`s born in Hungary, she captains the German national team. She plays as Midfielder, and before joining Lyon she played for FFC Frankfurt in Germany`s Frauen Bundesliga.
For the national team, she played in U-15, U-17, U-19 and U-20 teams. Her biggest successes in national team were in 2016 Olympics in Rio de Janeiro, where she led Germany to its first-ever gold medal in football, and scoring goal in UEFA Women`s Euro 2013, against Sweden in semifinals.
Dzsenifer was the youngest player ever to play in Bundesliga, she was only 14 years old. She also holds the record for the youngest goal scorer, she was 15 when she scored her first goal in FC Saarbrucken.
Last year, she won all three titles with Lyon, and that achievement she describes as "amazing".
"The Champions League final against PSG went to penalties when I scored my penalty, I didn`t know if I should cry or just scream. There were so many feelings and I was just crying because I was so happy. I got a lot of training from my father Janos Marozsan, who played professional football and played for Hungary. I listened to him a lot and that helped me in my career.
My brother is five years older than me – at first, he was not really happy that his sister was following him out to play in front of his friends. After a while he accepts me!
My Mum tried everything to stop me from playing soccer, she took me to dance training and everything. I did the things she wanted but after a dance class I would take my ball and go out to play with my brother, she can`t stop me from playing. Everything in my life is around football, I live it."
When the opportunity allows her to relax a bit, she likes spending time with family, friends and her dog. Besides that, she likes shopping and playing Playstation. One of her favorite games is FIFA and especially new feature of the game that gives an option to select women`s international teams. Dszenifer is one of the highest-rated players in the game. It maybe seems unimportant but this just goes to show how important it is to have women`s football incorporated into a such a big and worldwide known game.
Dzsenifer not only looks hot in football jersey, she looks even better when she`s doing commercials or fashion branding some of the world`s most famous brands. Her looks are more similar to a movie star, or singer then an football player with her beautiful, perfecty symmetrical face is quality of world`s top models, and Dzsenifer sure looks like one.
Dzsenifer Marozsan hot photos
Dzsenifer Marozsan hot video