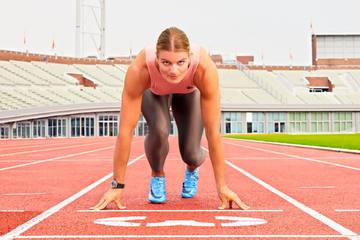 "Sei bella come un gol al 90!", is one of the most famous football graffiti and it's written on the walls somewhere in Italy. It means "You are beautiful as a goal in the 90th minute". We will never find out to whom that graffiti is written, but surely it's someone as beautiful as Dafne Schippers. Beautiful like that goal scored by her fellow citizen Marco Van Basten in 1988 European Championship final against Russians.
If you walk over the Dafne Schippersbrug you will know you are in Utrecht. The Dafne Schippersbrug is a bridge named after Dafne Schippers in the city she grew up and it was opened in April 2017 and named in her honor, before she was 25 years old.
Schippers is born od 15th of June 1992. in the Dutch city of Utrecht. She started her athletics career when she was nine years old at the track and field club Hellas in Utrecht. Before she falls in love with athletics Dafne started playing tennis. During a run at the tennis club, her impressive running ability caught the eye of many people, and she joined the track and filed club Hellas.
Originally she competed in the heptathlon and won gold medals at the 2010 World Junior Championships in Athletics. She was the first Dutch woman to win a medal in the heptathlon at the World Championships. At the 2013 World Championships in Moscow, Schippers won the bronze medal in the heptathlon. She took a massive seven seconds of her personal best in the 800 meters and collapsed after crossing the line.
At the European Championship following year she won gold medals in the 100 and 200 meters and decided to continue her career in sprinting. Results came already at the 2015 World Championships in Beijing. Girl from Utrecht won the silver medal in the 100 m and gold in the 200 m, just before Elaine Thompson. Her 200 meters winning time of 21.63 in Bejing is still European record, which means she is the fastest woman in European history.
At the 2016 Summer Olympics in Rio de Janeiro, she expected to win another gold, but she finished only fifth in 100 meters final and won the silver medal in 200 metes just behind Elaine Thompson. Jamaican sprinter became the first woman for 28 years to complete the Olympic sprint double. Schipper wasn't satisfied after Rio de Janeiro and next chance she will have in Tokyo 2020.
"I came here for gold. I'm not happy with the silver", said Schippers. Following year Schippers defended her world title in 200 meters and joined Jamaican Merlene Ottey and American's Allyson Felix as the only athletes to successfully defend a world title in the event. Her biggest rival is Elain Thomson with whom she doesn't have a very good relationship.
"It's very bad. I don't know why. Maybe because we are both big talents. If she says 'Hi' I will say 'Hi'. I am more of an easy person. With the European athletes, I can have fun with them. I am an easy person to talk to. If she won't do that, then OK", said Schippers about Thompson.
Even she is only 26 years old, Schippers already has a great medal record. Two golden, two bronze and one silver at the World Championships. Four golden and one silver medal at the European Championships, one silver medal at the Olympic Games, and many more golden, silver and bronze medals from Junior Championships. She even has a time for a food blog that she shares with her sister Sanne and you can visit it at Dafnelikes.com and maybe try some of her recipes yourself. And in bookstores you can buy her cooking book "Dafne Likes".
Is Dafne Schippers married or single?
Dafne Schippers is single. She previously had a boyfriend DJ Nicky Romero, but they separated in 2017. So hello fans out there, still a chance to date one of the hottest track and field athletes because Dafne Schippers currently has no partner!
Dafne Schippers hot photos
Dafne Schippers video