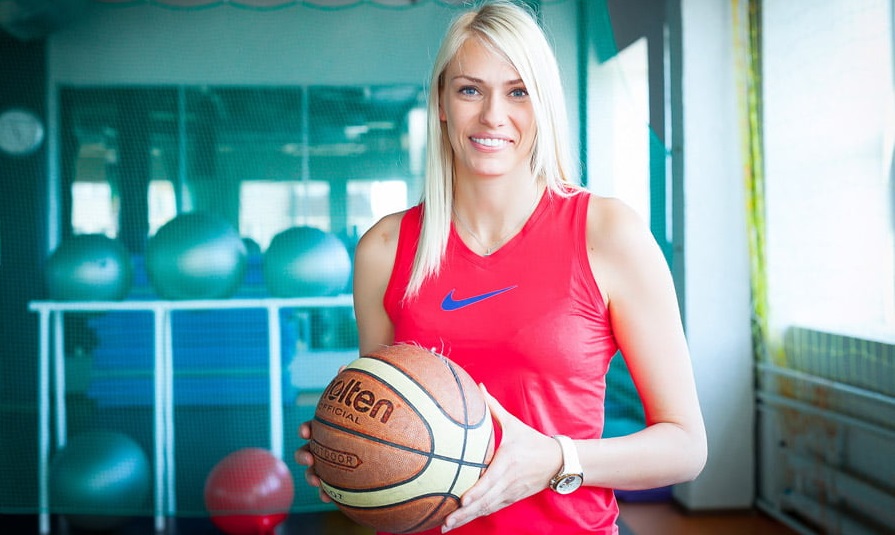 Maria Stepanova is a Russian professional and Olympic basketball player. She was born on February 23, 1979 in Shpakovskoye, Stavropol Krai, Russian SFSR, Soviet Union. From the time Maria Stepanova first stepped into the Olympic arena, the world knew that Russia had a player that was going to be in their national team for a very long time. She is a multiple champion and prize winner of many international competitions in the Russian women's national basketball team. Honored Master of Sports of Russia, Maria Stepanova is one of the few female basketball players who has performed a slam dunk.
Stepanova was born in the current town of Mikhaylovsk, in Stavropol Krai (former USSR), and she grew up in Tosno, Leningrad Oblast. The 2.03m player made her Olympic debut for Russia at 1996 Summer Olympics, at the age of 17. The thin-but-imposing Stepanova wore her striking blonde hair in a ponytail and attracted everyone's attention in her cameo performance. It was evident that the tall Russian would be the mainstay of her national side for many years to come.
In 1998, she helped Russia win a silver medal at the FIBA World Championship. In the same year, she was picked up by the Phoenix Mercury in the Women's National Basketball Association (WNBA). During her time in WNBA, she was the fourth tallest player in the league.
She was a part of the Russia side for 2000 Olympics, but the team lost to Brazil in quarterfinals. However, after the disappointment at Olympics, she earned her first Gold with Russia at the 2003 EuroBasket Women. She won two more gold medals in the same tournament in 2007 and 2011. However, her biggest accomplishments are arguably her two Olympic bronze medals. Following consecutive disappointments at 1996 and 2000, Maria Stepanova won back-to-back bronze medals with Russia at 2004 Athens and 2008 Beijing Olympics, andwas selected for MVP on Women's Basketball Olympic Tournament in 2004. She was set to make her fifth consecutive Olympic appearance in 2012, but she tore her anterior cruciate ligament while playing for UMMC Ekaterinburg in EuroLeague Women Final Eight on 30th March 2012. However Maria did win another MVP award at the European Women's Basketball Championship in 2005.
She is most famous for his match-defining performance for Russia against arch-enemy the United States at the 2006 World Championships in Brazil. The tall blonde contributed with 13 points, 11 rebounds and four shots as Russia defeated the US 75-68 in semi-finals. She was equally impressive in the final against Australia in the final but couldn't avoid her nation's defeat to the Aussies.
Ahead of 2013 EuroBasket Women event at Paris, Stepanova announced her retirement from international basketball. However, she played for UMMC Ekaterinburg at club level for some more time before entirely calling it quits.
At the personal level, Stepanova has won numerous accolades in her long and illustrious career. She has been honoured Master of Sports of Russia and has been awarded Medal of the Order For Merit to the Fatherland by her country for her contribution to sports. The latter is the first-class civilian medal of Russia.
She has also claimed The FIBA Europe Women's Player of the Year accolade three times in her career – 2005, 2006 and 2008. Similarly, she has been named Russian Player of the Year on three occasions in 2005, 2006 and 2007.
Very little is known about her current whereabouts, but she is definitely a legend of the game. She is also fondly remembered for her massive contributions to the Russia national team.
Maria Stepanova hot photos
Maria Stepanova video