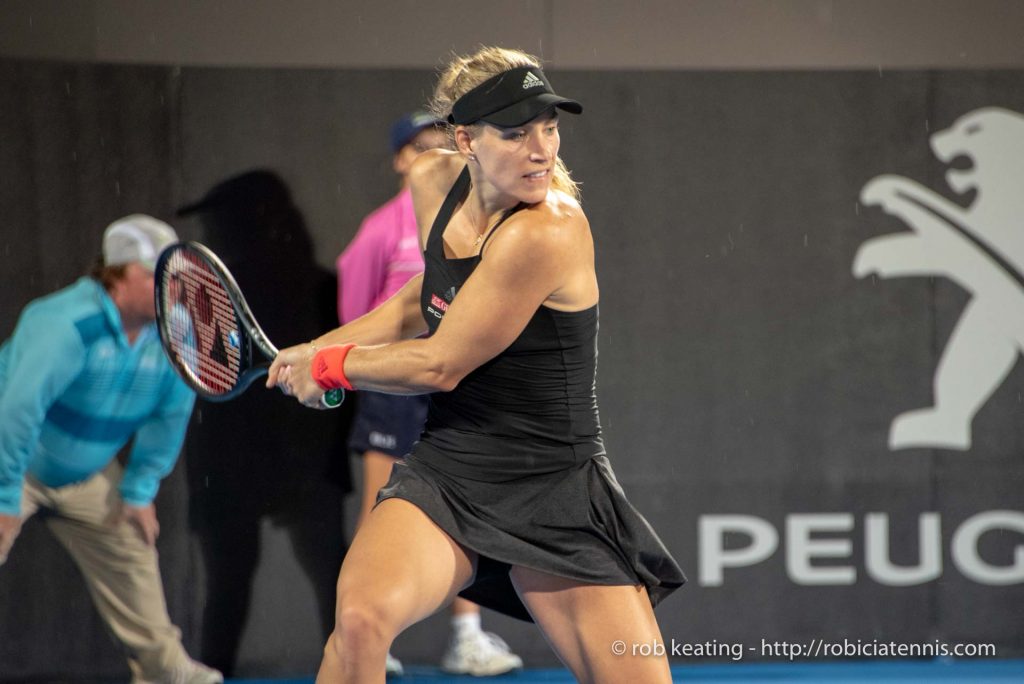 Angelique Kerber (born 18 January 1988), German female tennis player and former holder of 1st place on WTA rankings. She`s a left-hander and one of the most aggressive players in female tennis world. Kerber doesn`t have her favorite surface, since she is equally good on every surface, having won 12 singles titles, including 2 titles from "open" era (2016 Australian Open, 2016 US Open) and 2018 Wimbledon Championships. In addition to 2 titles in 2016, she has also won a silver medal for Germany at the 2016 Summer Olympics.
Kerber started playing tennis when she was 3 years old and turned pro in 2003. She had hard times in her Grand Slam debut year in 2007, starting with defeat against Elena Dementieva at the French Open, then she lost in quarterfinal at the Ordina Open where she lost against Anna Chakvetadze, doing so again at the Wimbledon, and finally ending with yet another defeat at the US Open, against Serena Williams, in the first round of the tournament, in straight sets.
She continued to struggle through 2007-2010, and before going into 2011 season she was ranked 92nd on WTA rankings list. So came US Open, when she managed to shock the world for the first time by winning a match against Agnieszka Radwanska, in three sets. She then followed up with wins against Alla Kudryavtseva, again in three sets, reaching quarterfinals where she defeated Monica Niculescu. She reached her first ever Grand Slam quarterfinal, that`s where she had to face Flavia Pennetta, the dream went on since she jumped over that obstacle and reached semi-finals where dreams sadly had to end and she lost against Samantha Stosur, who became champion of US Open. After this astonishing winning streak, Kerber reached her highest ranking, worlds No.34.
In 2012 Angelique Kerber won her first WTA title (Open GDF Suez) in a thrilling match against Marion Bartoli (7-6; 5-7; 6-3). At the US Open in 2016, she managed to over-throne Serena Williams as world No.1 since she gathered enough points by reaching finals of the tournament while Serene lost her match is semifinals, that outcome led her to being ranked WTA No.1 starting 12th September 2016. In finals, she easily won Pilskova in three sets and won her second Grand Slam title.
Angelique good form didn't last for too long since her 2017 season was one of her worst, she lost her No.1 position to Serena Williams, following with defeats on most tournaments she attended, falling out of top 20 players on the ranking list.
Her big rival Serena Williams was her lucky charm again, in 2018 after facing (and winning) Vera Zvonareva, Claire Lui, Naomi Osaka, Daria Kasatkina and Jelena Ostapenko she faced, once again, Serena Williams in Wimbledon finals, wining in straight sets, and getting back in top 5 again ranking at 4th place of WTA list. In an interview about her 2017 breakdown she said: "Without 2017, I would not be here. Because I learnt so much from myself, like a person, improving my tennis, improving me as a tennis player, and I think that is just the process. The process of years playing tournaments, playing important matches, being in the situation where the pressure is maybe on your side, or on the side of the opponent. It is just a process you have to go through."
Angelique is sporting Adidas and Yonex and she`s their ambassador, also she is the global ambassador of Porsche. Apart from that, she is also beauty ambassador for cosmetic company Bare Minerals, Rolex and ambassador for children`s charity UNICEF. In 2017 she was named second highest-paid female athlete.
If someone ever doubted her ability to not just play good but to look good, you can just take a look at how beautiful, hot and sexy she looked at Wimbledon ceremony dinner, where she was accompanied with Novak Djokovic, wearing a glamorous red dress, showing her amazingly good looking physique.
Angelique Kerber is on the list of the best female tennis players.
Angelique Kerber hot photos
Angelique Kerber video