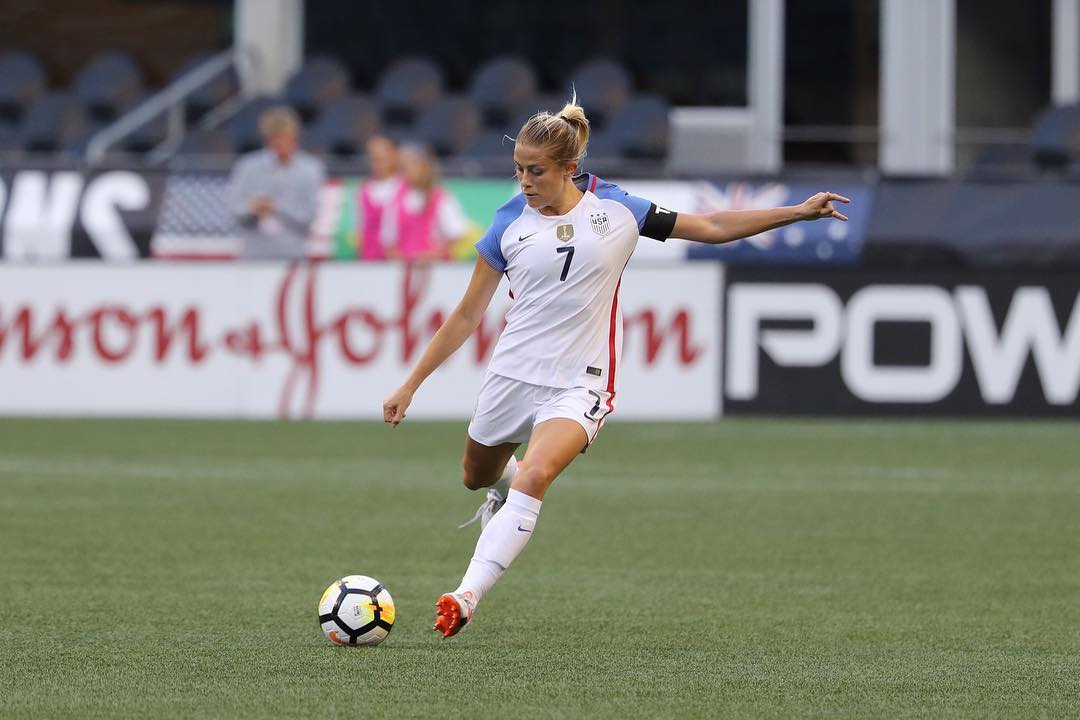 Abby Dahlkemper is an American professional female soccer player. Born in the United States in 1993 and raised in Menlo Park, California, playing at defender/center back position and in 2010 she earned California Girls Soccer Player of the Year award.
While playing soccer in her youth career she only played for MVLA Avalanche for five years (2005-2010) and for Sacred Heart Preparatory (2008-2011) after signing for UCLA Bruins in 2011, her first team in college career. She made 93 appearances in the span of 3 years (2011-2014) playing for Bruins and scored 5 goals. The highlight of her career in Bruins is winning NCAA National Championship in 2013 and being awarded the Honda Sports Award.
Her career continued in Western New York Flash, winning NWSL Championship with the Flash in 2016, and went on loan in Adelaide United shortly after.
In 2017 she signed for North Carolina Courage (her current team). She just transferred to North Carolina because New York Flash was sold to the owners of North Carolina FC, so that`s how she became part of the team. She was the starter whole season, not missing a single minute of the game and was named 2017 NWSL Best XI, and voted NWSL Defender of the Year 2017 archiving both of those important titles in the same calendar year.
She was part of the United States international teams in U-17, U-20, U-23 and Senior collective. Doing that time she helped the team to win the Four Nations Tournament championship in 2013. She did that again next year when the U.S became champions once more.
Abby overcame a life-changing experience when one night she woke up being literally unable to walk because of the pain in her foot. After visiting a doctor she was diagnosed with a septic infection in her right foot, toe precisely. This was a life-threatening situation and she had to react quickly by undergoing surgery and antibiotics use. An injury kept her off the field for a quite long time and she missed some important matches both for her national team and for the club, which she handled very hard.
Her hard work and dedication led her to be able to go out on the field sooner than anyone expected her to do, and that was a strong message and inspiration to both her team-mates and the whole world. Her teammate Sam Mewis said: "You don`t know what goes on deep inside anyone`s mind, but I think she believed in herself the whole time. She never stopped working for it. I`m sure sometimes it was difficult, but I think that she really had that confidence deep down that she could do it. She`s one of those people that being here isn`t enough. She wants to continue to grow and continue to develop."
Today, Abby Dahlkemper is stronger than ever, looking better than ever, she is a proven warrior and symbol of courage, beauty, sex-appeal. Her green eyes, blonde hair and one of the prettiest faces in professional football, only accompany to these titles.
Abby Dahlkemper hot photos
Abby Dahlkemper hot video