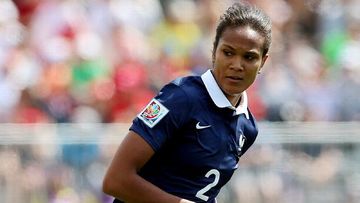 Wendie Therese Renard is a French female football player, born on 20th July 1990. She plays for Olympique Lyon and she`s one of the rare football players who is both captain of her club and also of the national team. Her position is a central defender.
Her status in Lyon is on a high standard since she`s been regular in starting eleven from 2006-2011. In the final game of UEFA Women`s Champions League, she scored a goal in 2-0 victory against Turbine Potsdam.
Wendie played both for U-19 and U-20 national teams of France. Her debut for the national eam was in 2011 in a match against Switzerland as part of the Cyprus Cup. She represented her colors in two of FIFA Women`s World Cups as well as two Olympics games, and she`s the only captain of the national team since September 2013.
Unlike some other female football players, Wendie Renard also supports feminists and equal pay men-women but adding "I `m not too much for gay marriage" because she`s Catholic and she is very religious and rigid about. Also, Wendie never wanted to reveal her salary, but all she said is that she knows how to negotiate well enough for her age. But being captain makes her salary at least a few times bigger than an average female footballer in League 1 (French division 1 league).
Being 187 cm at height, she`s like a big brother to the whole team, and combine that with her lightning speed (for her height) she`s true leader both as a club captain and captain of the national team of France. While playing for Lyon she scored 67 goals in 254, something unusual for defender position, and 18 goals in 82 for a national team of France, so she proudly wears her nickname "fox of the surfaces".
In her free time, Wendie says that she enjoys playing Playstation most of all.
Considering her looks, Wendie seems like she doesn't age at all! Being 18 or 28, in her case, doesn't make a difference at all. She has beautiful clear skin, pretty black eyes and great taste in fashion, so we can often see her looking hot, dressing almost red-carpet like style, wearing her favorite earrings (that`s her favorite fashion detail) and bunch of different hairstyles that only brings out her charisma and beauty, proving that not only she is one of the best players in France but she`s also one of the most beautiful.
Wendie Renard hot photos
Wendie Renard video