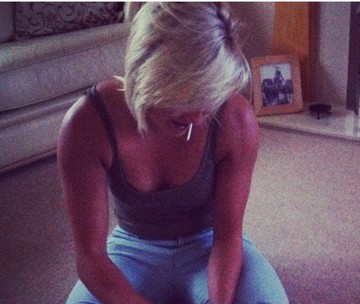 Stephanie Jayne Houghton (23 april 1988) is a female football player from England. Playing at Centre back position. She posses title of Most Excellent Order of the British Empire (British order of chivalry, rewarding contributions to the arts of sciences, work with charitable and welfare organizations, and public service outside the Civil service). Her current club is Manchester City, and she plays for England women`s national football team.
Before she came to Manchester City, she played for Arsenal Ladies (2010-2013), Leeds United Ladies (2007-2010) and Sunderland Women (2002-2007). In Sunderland, she played as a striker, but since she was a very versatile player she was switching her positions as needed, and ended further and further back, from midfield and eventually to defense. Steph made her first break-through on 2012 London Olympics, where she scored four goals in three games.
Steph Houghton made every team that she played for, better. First, she carried Sunderland to win promotion to Northern Division in 2005-2006 season, and she won FA Young Player of the Year Award for that efforts. Later, she helped Leeds to win the 2010 FA Women`s Premier League Cup. Playing for U-16, U-19, U20, U21, and U23 national teams of England, she proved constant high level of skills but sadly had to miss 2007 World Cup, cause of bad injury, broken leg.
On January 2014, England got new coach Mark Sampson, who promoted Steph Houghton into the captain of the team. Houghton was made captain again in 2015 World Cup, and she got chosen for Player of the Match during quarterfinals game versus Canada. With that victory, England qualified for their first semi-finals ever.
Steph is a hard worker for sure, her day starts at 8:30 when she`s training, with 2 workouts during the day, gym and healthy "clean" diet. She`s always on top of her physical form. When asked about her experience playing for England she said: "I`ll never forget my first England call-up – how proud I was. It was playing away in Germany and I remember getting the call and running to tell my mum and dad. I was 17 and it meant everything. I am immensely proud every time I put on the shirt to know that I am representing my country and giving my all each time I play."
Looking at Steph, you can immediately notice her attractive body, beautiful face and eyes, and perfect smile, and indisputable charisma. She is well dressed in every occasion and looks pretty hot when she`s in public. She has every attribute of alpha-women, on and off the field.
Stephanie Houghton hot photos
Stephanie Houghton video