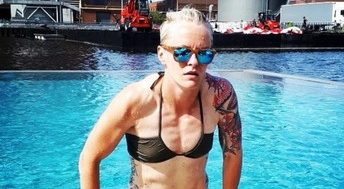 Asa Nilla Maria Fischer is Swedish footballer, playing as centre-back / defensive midfielder for German football club VfL Wolfsburg. Born in Kristianstad, Sweden and she`s 33 years old. Before signing for Wolfsburg she was the member of LdB FC Malmo, and she was their captain.
Her debut for the national team was in a game versus Norway, in 2001. Everything changed for Nilla in 2013 after coach Pia Sundhage decided to change her position to center back. After that change she started playing better and better, which showed on the field, she scored three times for Sweden at UEFA Women`s Euro 2013. After this significant upgrade in her results, she caught the eye of VfL Wolfsburg management and they offered her contract in August 2013.
On 7th September of 2013, Nilla Fischer made her debut appearance in Wolfsburg colors in a game against big rival Bayern Munich. In her professional career in 256 appearances, she scored 34 goals.
In 2013 interview for QX magazine she announced that her intentions are to marry her female partner Mariah Michaela. Weeding took place in December 2013, and they are happily married ever since.
Nilla is one of the most important voices in supporting gender equality and LGBT rights. She was the first player ever to wear a rainbow-colored captain`s armband for Bundesliga match against Bayern Munich. Even though she got many positive comments, she also got a lot of hate for it.
"It`s a fight we have to continue working on for ever. Even though I have a lot of better opportunities as a football player nowadays, and everything around us is much better, it`s still different when you compare me to a man. I don`t think we`ll ever get in that direction, we`ll never get the same, but I think we have to fight all the time to improve everything around us – economic factors, training times, everything, and all the questions around equality and LGBT issues" – said Nilla in an interview.
Bold style, brave and strong, Nilla is one of the most recognizable female football players in the world. Her style is very distinguished, rad clothes, wicked haircuts, and cool tattoos accompanied with great physique is something that many male football players would be envious about.
Nilla Fischer hot photos
Nilla Fischer video