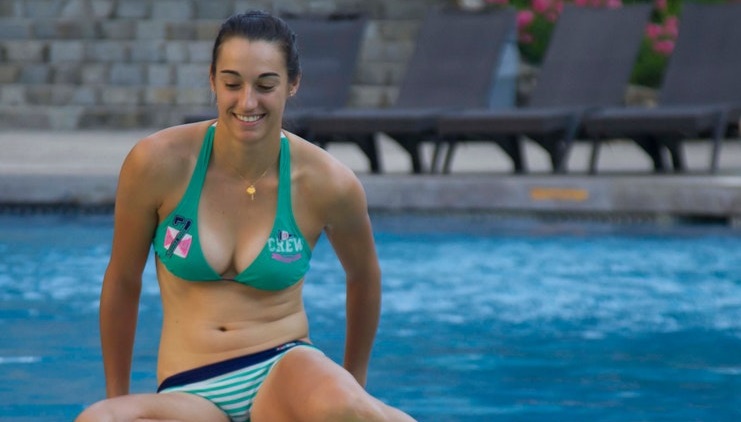 Caroline Garcia is a French professional tennis player. She was born in the 16th of October 1993 and has achieved significant success in tennis. She was born and raised by French parents in Lyon, France. She joined professional tennis in 2011 and since then she has been on a winning spree. On 11th of June 2018, Garcia reached her best Women's Tennis Association (WTA) ranking of number six. Since 2011, Garcia has won five singles and six doubles titles in the WTA tour. She has also won one double and one singles title in the WTA 125K series. Garcia also has one single and four doubles titles on the ITF Women's Circuit. To this end, Garcia has a career record of 271 wins versus 214 losses in singles and 153 wins against 90 losses in doubles.
She is a team player as has been demonstrated in her being ranked number two in the doubles ranking on October 2016. She partnered with Kristina Mladenovic and went ahead to win four titles together. Garcia was awarded the Heart Award in 2016 for her sportsmanship and her contributions and effort in tennis. Furthermore, she was instrumental in leading her country, France, in the 2016 Fed Cup finals, the country's first final since 2005.
Her consistent training and conditioning has given Garcia a hot athletic body and she is not shy to show it off! With a height of 1.77 meters (5 feet and 10 inches), she is slim and tall making her both flexible and beautiful. She is right-handed and can be described as an offensive baseliner. Her height and body size allows her to use consistent and powerful groundstrokes which increases her winning.
Garcia is very attractive and her consciousness on beauty and appearance has attracted fashion companies. She is naturally beautiful and her height and body size complement her physical beauty. She serves as a spokeswoman for Sothys, a French cosmetics company and is also active on social media with all the sites acknowledging her as a public figure and specifically an athlete. She has attracted an average of a hundred thousand followers on the each of the social media platforms. Caroline Garcia is a perfect example of beauty and success in sports.
Caroline Garcia hot photos
If you like what you see, you can follow her on Instagram at @carogarcia
Caroline Garcia video