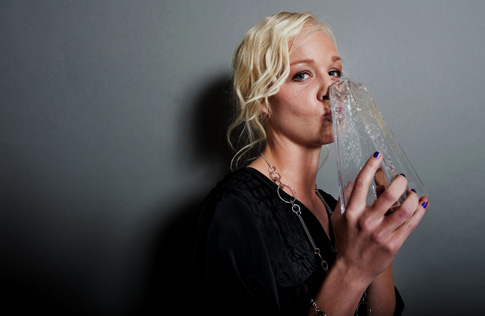 Sara Caroline Seger, a female football player from Sweden, playing at central midfielder position. She`s born on 19 March 1985, and her football career started in 2005-2009 playing for Linkopings FC, scoring 39 goals in 139 appearances, In a national team of Sweden, she was co-captain of the team.
Caroline made her international debut in 2005, and she continues to represent her country in 2009 and 2013 editions of the UEFA Women`s Championship, followed by 2007, 2011 and 2015 FIFA Women`s World Cups. She also has appearances at Olympic Football Tournaments. (2008, 2012, 2016)
In 2005, while being part of Linkopings FC, Sara won Rookie of the Year award, and two Midfielder of the Year awards (2006, 2009). After qualifying for UEFA Women`s Champion League, she was offered new one year contract with the team, that she accepted and led her team like a true leader, for such a constant effort she was awarded Swedish women`s soccer player of the year award.
She continued her career overseas, signing for Philadelphia (United States). They offered her three-year contract. She had a good first season scoring one goal and five assists in 18 appearances. Then she went through heel surgery after the season had ended.
After Philadelphia, she got traded to Western New York Flash, where she even wore captain armband but was drafted again to Tyreso FF (2012). Although Seger helped Tyreso tremendously, team management couldn`t do nothing to keep her because of the financial crisis team went through. Tyreso FF then withdrew from releasing the whole team. After release, she joined Paris Saint-Germain, signing a two-year contract (2014). The contract expired and since she didn`t get a chance to extend the contract, Olympique Lyon stepped in and signed her in 2016. She left Lyon after just one season, and went back to her homeland, playing for FC Rosengard.
Her international career truly skyrocketed after she got an opportunity to get a bigger role in her team since older, more experienced team members started retiring.
The new coach of the team, Thomas Dennerby was very satisfied with her performance and winning attitude that he gave her captain title in 2009. Seger repaid him leading Sweden to third place in FIFA Women`s World Cup in Germany (2011).
Caroline is openly expressing her sexual orientation as a lesbian, saying that she is proud and happy. She was hiding it in the past but then decided, that because of her fame, she could be role model to many others and serve them as inspiration, so she went out in public about it. Her girlfriend is also football player Eva Malin Levenstad.
The judgment of others is something that Caroline doesn`t pay much attention to, which can be seen by her inside and outside look, she`s one of the leanest female soccer players, and could easily be fitness model, if she wasn't into football. Being on a cover of magazines is nothing new for her, showing her hot, sculpted body, rock-hard six pack abs, and impressive physique.
Caroline Seger Hot Photos
If you like what you see, why not follow her on Instagram! @crisrozeira
Caroline Seger video