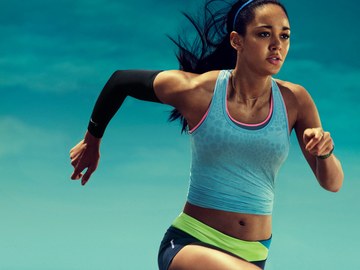 In St. Peter's churchyard in Woolton lies the grave of Eleanor Rigby, made famous by the Beatles song "Elenor Rigby". It's the Liverpool's neighborhood which is a birthplace of John Lennon, as well as the British track and field athlete specialized in the heptathlon – Katarina Johnson-Thompson.
Born in the city which was a major port of departure for Irish and English emigrants to North America. Liverpool was a port of registry for the ocean liner Titanic, as well as the Queen Mary. Her great connection with the city and with the club that never walks alone (Liverpool FC) has helped her to achieve her greatest results in athletics so far.
"I thought it was under control until 300m into the race. Then I felt it worsen. I thought about stopping and just carried on. I'm a Liverpool fan, so I'm always an optimist. All those European nights have given me a belief that anyone can bounce back", said Johnson-Thompson after she won Commonwealth heptathlon gold in 2018. Just a month before that she won World Indoor Championships in Birmingham competing in Pentathlon.
She was born in Woolton on 9th of January 1993. Her father is Bahamian, and her mother Tracey is a dancer. They met on the Bahamas when Tracy had a Moulin Rouge performance. After she has won 2009 World Youth Championship in Brixen representing England, she had her chance to compete for Great Britain at the 2012 Summer Olympics in the women's heptathlon. She was only 19 years old and she finished in 15th place with a score of 6267.
At the 2013 IAAF World Championships in heptathlon Johnson-Thompson finished in 5th place only 28 points behind bronze medalist Dafne Schippers. Two years later in Bejing, she took 28th place after three foul jumps in the long jump. At the 2016 Summer Olympics, she missed out on a medal finishing sixth in the heptathlon, although she set a new British high jump record with a jump of 1.98 meters. That jump would have been good enough to win a gold medal in high jump competition at the Games.
This beautiful lady decided to move from Liverpool to Montpellier. She part times with Mike Holmes her long-time coach and her new coach is a Frenchmen – Bertrand Valcin. This decision helped her to make better results. Moving to sunny southern France and working with her mentor Jessica Ennis-Hill proved to be very successful and we have seen results in 2018 Birmingham Indoor World Championship and 2018 Commonwealth Games. Johnson-Thompson will have to prove that on a big stage as well. The first shot is in Doha (World Championships) next year and then the most important in the Tokyo 2020 Summer Olympics.
Katarina Johnson Thompson hot photos
Katarina Johnson Thompson video