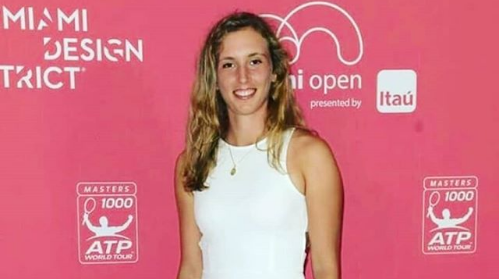 Ever since she made her debut at the 2015 COPA Colsanitas in the partners event with Nastja Koljar, Elise Mertens has been in the tennis world spotlight. The 5ft 10in beauty was born in Leuvens, Belgium on November 17, 1995 and has had interest in tennis from an early age. Mertens was only 4 years old when her older sister Laura, who is now an airline pilot, introduced her to the game. Coming from such humble beginnings, Mertens knew the value of hard work and dedication early on. She was homeschooled by her mother, who was also a teacher. Mertens showed academic promise even at such a young age. She was quite taken by languages and learned a few from home. She became fluent in French, English, and Dutch/Flemish.
Mertens' first achievement came in 2015 when she ranked #7 in the juniors. That's when people began to notice this young talent from Belgium. The brainy beauty has been a member of the Kim Clijster Academy since 2015. She's looked up to Justine Henin and Kim Clijsters throughout her career. She first broke into the international scene after winning the 2017 Hobart International. Her first grand slam semifinal titles came just a year later in 2018. At that point, she became the only 4th Belgian woman to reach the final four stages of the Australian Open tournament, joining the ranks of her idols, Henin & Clijsters.While she experienced a few physical challenges after that time, Mertens recovered to become one of the most stunning forces in the tennis field.
You could easily recognize Mertens and her long limbs that have helped her in her career. She may dominate the field, but people are beginning to recognize her presence off the field as well. Mertens may very well have a career in fashion whenever she decides that she's finished with tennis, but for now, she's still at the top of her game, making tennis look good like never before.
Elise Mertens has never posed nude nor done any naked videos or such.
Some facts
Current ranking 22.
Career Singles Titles:5
Career matches won:144
Year to date matches won:28
High rank for singles:12
Career Doubles Titles:9
Career matches lost:83
Year to date matches lost:11
High rank for doubles:2
Elise Mertens is not married but not single either. Her boyfriend is Robbe Ceyssens that has also been her coach.
Elise Mertens hot photos
If you like what you see, why not follow her on Instagram! @mertenselise
Elise Mertens video