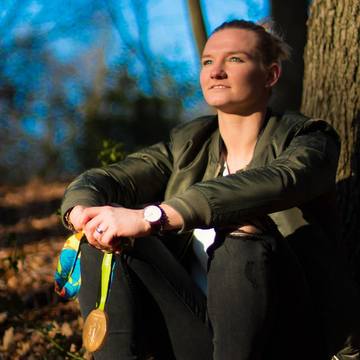 Alexandra Popp is 27 years old (6 April 1991) German football player, playing as a striker for German team of VfL Wolfsburg and the national team of Germany.
She won German Footballer of the Year award two times in 2014 and 2016.
Her professional career started in FC Silschede but very soon joined FCR 2001 Duisburg (2008). Even though Olympique Lyonnais showed interest in her, Alexandra refused the offer and choose to stay loyal to her club, so she decided to stay in Duisburg. That move proved to be good since she scored two goals only three weeks after her debut in Duisburg in an 8-0 win against TSV Crailsheim.
Another sign of a good choice was the fact that Alexandra Popp won two of the most important football achievements: 2009 UEFA Women`s Cup and 2009 German Cup, in accompany to that, she personally won Fritz Walter medal, the medal given to the year`s second best female junior player. Next year, Alexandra won German Cup with Duisburg again.
Alexandra`s international career started perfectly, in 2008 UEFA U-17 Women`s Championship almost dream-like since she scored a goal for her team in final. Her debut for a senior national team was in a friendly match in 2010 when Germany played against North Korea, two weeks after that game, she scored her first goals in a win over Finland (7-0, 2010, Algarve Cup).
In 2010 she was part of the U-20 team, in FIFA U-20 Women`s World Cup, which was played in her home country of Germany. That was one of the most successful years in German female football history since they managed to win the title, and she was considered as "prodigy" of the tournament, winning best player and top goalscorer awards, scoring ten goals in total, but she scored in every game of the tournament. In 2016 Summer Olympics she was part of the team again, and Germany again won a gold medal. In 29 appearances Popp scored 41 goals in her international career.
Fun facts about Alexandra Popp is that she was part of the "elite school of football" where she was training with junior players of German`s man Bundesliga team of FC Schalke 04. "It was a normal school with a normal class, the only difference was that there were three male players from Schalke 04 and me in that class, and we trained three times a week in the morning when all the others had classes. But we had to re-sit these classes in the afternoon, of course! " said Alexandra.
Currently, she`s trying to get her zookeeper license.
Unlike many of female football players, Alexandra almost always presents herself as a footballer first, wearing casual sports clothes, and being natural with almost no make-up, showing her natural beauty and beautiful blue eyes, but also showing that she could look pretty hot wearing a bikini.
Alexandra Popp hot photos
Like what you see, why not follow her on Instagram (@alex.popp11) or Facebook!
Alexandra Popp video