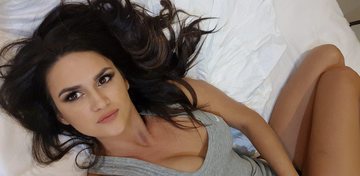 Leryn Dahiana Franco Steneri is a sexy Paraguayan javelin thrower, model and actress, currently employed by the athletics department of Club Sol de América.
The Republic of Paraguay, or Corazon de Sudamerica (Heart of South America) as it is sometimes referred to due to its central location in South America, does not have a very  successful history at the Olympics. In fact, they only have one Olympic medal, which they won in 2004 in Athens where everything started way back in 736 years BC and where the first modern Olympics were held. The Parguay national football team  won this medal was won by defeating Iraq in the semifinals and were denied gold by Argentina and Carlos Tevez  in the the Olympic final. However, this silver medal was still a historic result for Paraguay. Four years later, the world met the stunning Leryn Franco and almost instantaneously fell in love for the girl born in Asuncion, the capital of Paraguay.
She started competing in 1996 at the South American Junior Championships in her hometown of Asuncion. Two years later at the South American Junior Championships in the city of Manaus, at the "gate" of the world largest rainforest, she won a gold medal, and one year later she was third at the same event in Concepcion in Chile. This hot athelete has represented Paraguay three times at the Olympics which is a great success for this country.
"To qualify for London, the Olympics is already a medal," she said before 2012 Summer Olympics.
Leryn was also Yahoo's second most-searched Olympian during 2008, just behind champion swimmer Michael Phelps (Most decorated Olympian, having won a total of 28 medals) which was a commercial victory for her country no money could buy. Franco is so seductive and beautiful that she has appeared in the 2011 Sports Illustrated Swimsuit Issue, and was runner-up Miss Universo Paraguay 2006.
In 2013, the hot Leryn Franco began her acting career and was cast in Irish film Eliza Lynch: Queen of Paraguay. She had the role of the younger Eliza Lynch, a "National Heroine" of Paraguay  and the wife of Francisco Solano Lopez, president of Paraguay. Her role in the film was important and her performance was described as "beautifully captures the spirit of a young Eliza Lynch".
Franco played football before pursuing javelin and Olympic fame, and is a fan of Olimpia and Penarol from Uruguay where her parents were born. Both clubs are among the most decorated in South America where football is like religion.
This gorgeous actress and graduate in Business Administration, is the Pargauryan national record holder in the javelin throw with a distance of 57.77 meters. She may not have many medals but she has without any doubt left a great impact on the whole sports world as an ambassador for Paraguayan sports.
Leryn Franco hot photos