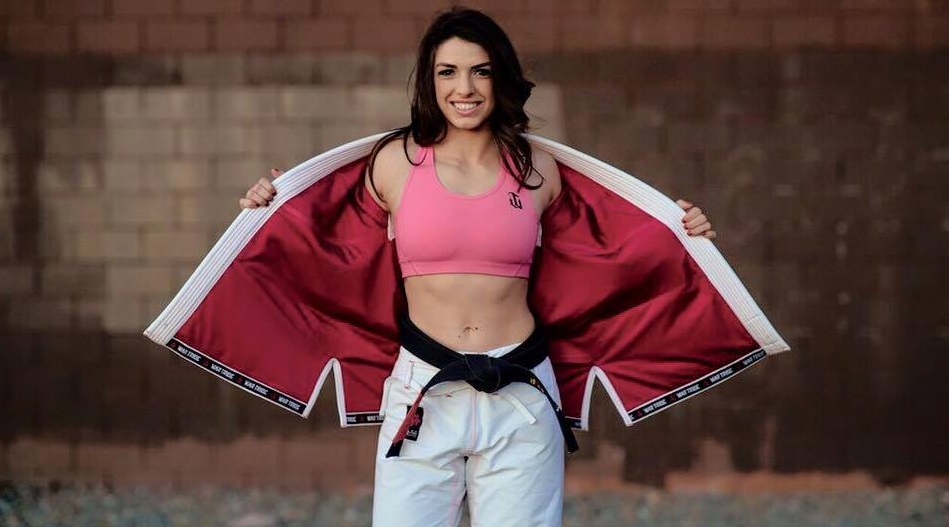 Mackenzie Dern is an American Brazilian Jiu-Jitsu practitioner and mixed martial art fighter. She is a former world No 1 ranked IBJJF competitor, currently ranked 6th among the female divisions. She is an ADCC and World Champion in Brazilian Jiu-Jitsu.
Mackenzie Dern began training by 3 years old and practicing with her father Wellington "Megaton" Dias and stepmother. She started competing at a young age, and began competing in the adult divisions by 14 years old. She has won a world championship in every belt level as she progressed to black belt rank, which was awarded to her by her father in December 2012
The 24-year-old Arizona native, Mackenzie Dern has won all four of her professional fights in MMA, winning the debut versus Kenia Rosas in Jul 2016. She showcased her world-class mat skills with a pair of submission finishes. In just her second fight, Mackenzie Dern landed on many of 2016's "Submission of Year" lists for her highlight-reel, first-round omoplata/rear-naked choke submission over TUF 26 quarterfinalist Montana Stewart.
Mackenzie Dern has signed a new deal with all-female promotion Invicta FC. Her debut for Invicta FC will be on December 8 in a strawweight bout against one-time title challenger Kaline Medeiros.
Although Mackenzie Dern has posed for lot o sexy hot photos, Mackenzie has never done any nude photos.
Except being faster growing MMA star, Mackenzie Dern is also beautiful and hot sport girl who is fluent in both English and Portugese!
Is Mackenzie Dern single or married?
Mackenzie Dern is not single and is happily married to Wesley Santos.
Mackenzie Dern hot photos
Mackenzie Dern video