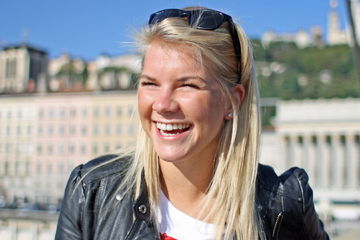 Ada Martine Stolsmo Hegerberg, is one of the youngest and best ranking Norwegian female football star. Being just 22 years old (10 July 1995), Ada already represented Norway at international level, making her debut for senior team in 2011. When Norway won a silver medal at 2013 UEFA Women`s Championship.
Her current position is a striker at Olympique Lyonnais (Division 1 Feminine club) and before signing for famous Lyon, she played for Kolbotn in Toppserien (top level of women`s association football in Norway).
Up to date, she holds awards UEFA Best Women`s Player in Europe (2016) and BBC Women`s Footballer of the Year(2017). This accomplishment in only last 2 years is a great indicator of bright future that Hagerberg has in front of her.
Hagerberg was born in Molde (Norway), but she grew up in Sunndalsora (also Norway), where she played football for Sunndal Fotball  club, in company of her sister Andrine. Later, she moved to Kolbotn and continued her carrier in Kolbotn IL.
She had put her into spotlight very soon by scoring three goals in seven minutes on August 6, 2011. This made her youngest player ever to score a hat trick in Toppserien, with just 16 years of age. She finished a season being top scorer in a league and winning Young Player of the Year award.
After joining  Stabæk, she scored five just in a first half of the game vs Fart, in May 2012. (ended 8-2). Along her sister at that time she was considered biggest talent in Norwegian women`s football. Her carrier continued in Germany in 2013, playing in Bundesliga (FFC Turbine Potsdam), later joining her current club Olympique Lyonnais(2014).
Her first season in Lyon (France) was crowned with 26 goals in 22 league games, leading Lyon to winning Division 1 Feminine title( for a ninth consecutive time). This, besides all else enabled her to get contract till end of 2019. In 2015-16 she was top scorer of the league once again, scoring 33 goals in 21 league games.
Her international career consists of appearances for Norway in 2012 FIFA U-20 Women`s World Cup where she debut for Norway, but as a substitute. The first real debut was in 2013 UEFA Women`s Championship, where she scored her first goal in a game against Spain.She was awarded with Best Young Player Award on 4th August 2015.
Awards never stopped for Ada since she went on being awarded with 2015 Norwegian Gold Ball award, award that is being given to the best football player in Norway. Winning this award she was part of the history  since no women won this award in last 20 years.
Being a bit overwhelmed by all of this, she got fed up, and in the summer of 2017, Ada Hagerberg decided to "hang up the cleats", and pause from playing for national team.
Besides looking stunning on the field, she looks nonetheless beautiful of the field, somehow managing to look hot all the time, sporting Puma, Mot, and other fashion brands. Being glamorous is nothing strange for Ada, (you can see from the pictures below),  she perfectly balances glamour of looking like a Hollywood star and also footballer.
She looks comfortable wearing sexy dresses and she sure has secured career after football doing modeling alongside her beautiful sister, they both make up to one of the most beautiful sister duo in the football world.
Ada Hegerberg hot photos
Ada Hegerberg video